Sceneries of the world to your room
By simply putting it on your desk or hanging it on the wall, Atmoph Window will open up a whole new world before you, creating a liberating feel in your room. With videos and sounds of beautiful scenery from around the world, you will feel as if you are actually there.
Exclusive 4K-shot videos and sounds
All videos provided for Atmoph Window are exclusively filmed with a 4K professional camera and high-performance microphone. We already filmed more than 400 of beautiful landscapes in the world with rich live sounds.
Live streaming also available
With our camera for live streaming, you will experience unexpectedness of everyday life somewhere else through Atmoph Window. (Under development)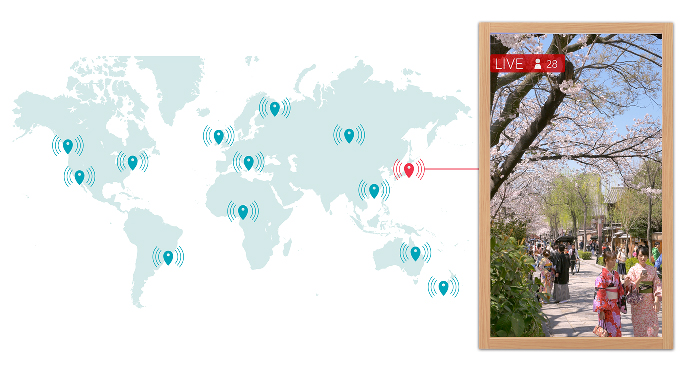 Upload your own videos
Have you ever encountered an amazing view while traveling so that you wanted to stay there forever? Or do you miss scenery of your home town that brings back memories? Now you can have those views in your room, by just uploading your own videos to Atmoph Window from your favorite browser. (Under development)
Information you need, a glance away
You can easily see the information you need, such as a time, the date, the weather or a calendar in that moment with just a glance at Atmoph Window.
Designed to fit naturally
As we have concluded that the digital window should fit naturally into every type of interior, without being too exceptional, Atmoph Window have simple wood frame coming with a beautifully woven fabric cord in ivory. You can choose from deliberately selected 4 colors: Oak, Walnut, White and Black.
Easy to use
Just select a scenery of your choice on your iPhone or Android, after downloading our free app. It's that simple. You can also make a favorites list or purchase/download additional videos.
Apple Watch
Now, we support Apple Watch. With your watch, you can turn on information you want, change the view to the next or select your choice of scenery from your favorites list. You don't need to look for your smartphone anymore! (Under development)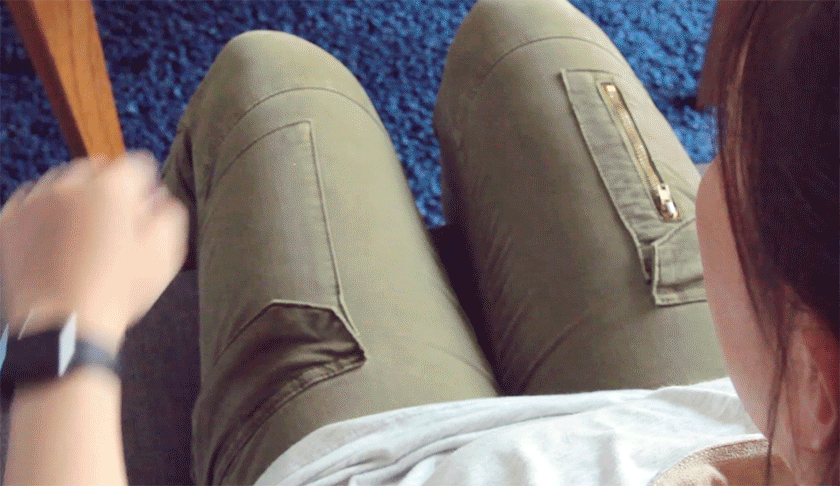 Proximity sensor
By simply pausing your hand in front of it, you can handles multiple tasks depending on situations.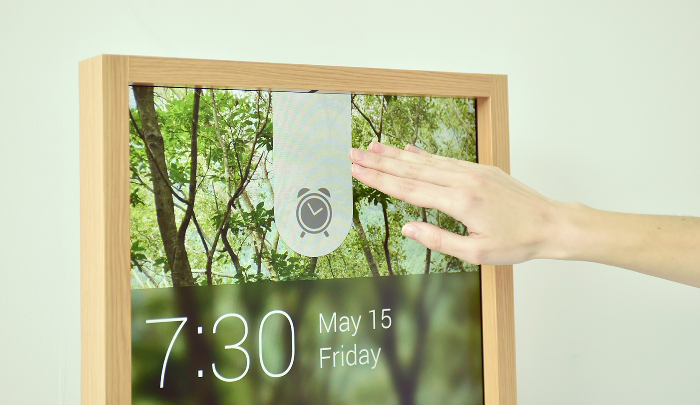 Alarm clock
Atmoph Window's alarm clock will wake you up with a pleasant sound of birds chirping instead of a beeping alarm clock. Also, you can easily see the information you need in the morning with just a glance at it. (Under development)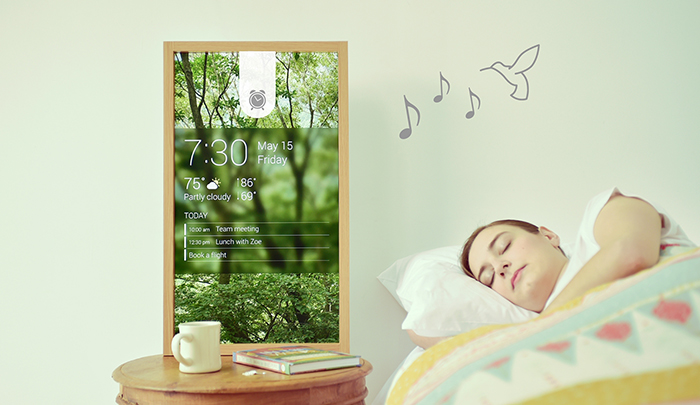 Smart scheduling
You may not want to bother changing sceneries every day. Atmoph Window has a smart scheduling feature that automatically changes sceneries based on the time of day. (Under development)
Tech Specs
27-inch high-contrast display (1920x1080, anti-glare)
1.5 GHz quad-core ARM Cortex-A5
H.265 hardware decoder
1GB DDR3 memory
32GB storage
proximity and ambient light sensors
Wi-Fi 802.11ac/n/a/g/b (5GHz/2.4 GHz)
2W full-range speaker
Size: 25.2" x 15.0" x 2.2" (640 x 380 x 55 mm)
Weight: 10.8 lb (4.9 kg)
Power: 39 W (approx. half of a light bulb)